Branded Carrier Bags designed to your specification
Hello, we are CarrierBags.co.uk, the leading supplier of branded carrier bags in the UK.
With a range of plastic & paper bags in several styles, we can produce the bag to match your requirements.
Our range of bags are available in a number of sizes and styles and in a colour of your choice and we deliver urgent small quantities of bags quickly, direct to your door.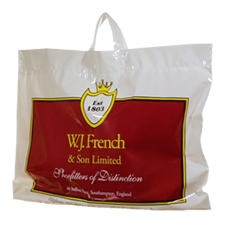 Why use branded carrier bags?
Enhance your brand identity with unique, bespoke and eye-catching graphics.
Make your brand stand out from the rest.
Develop brand personality connecting a positive experience of opening a purchase with your brand.
Look more professional to your customers than simply having a plain carrier bag.
Bags can be printed with key information about your company and can help your customers get back at you.
Our range of carrier bags are available with different handle styles and in a colour of your choice
We can deliver urgent small quantities of branded carrier bags to your specification very quickly
Which kind of carrier bags do we offer?
Our branded carrier bags are produced from plastic or paper and are made in the UK.
To get a quote and customise your own branded carrier bag, please start building your bag or call one of our customer sales team who more than happy to help you on 01438 742890.
The Carrier Bag styles that we can provide...